We hereby inform that the products manufactured by Fabryka Firanek i Koronek "HAFT" S.A., specified in the certificates, have successfully passed the process of testing in accordance with STNDARD 100 by OEKO-TEX –
product class II
. We have obtained two documents confirming that our products are free of harmful substances in concentrations that have a negative impact on human health, that they meet the requirements of XVII REACH and comply with the US requirements for total lead content in products for children – CPSIA. Certificate No.:
IW 00252 – applies to products sold by the metre,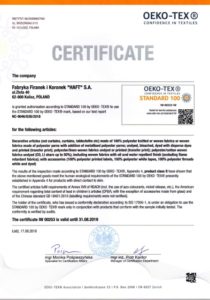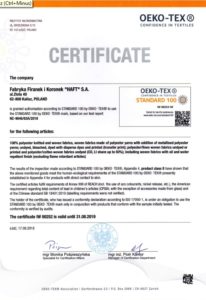 IW 00253 – applies to full-fashioned products.